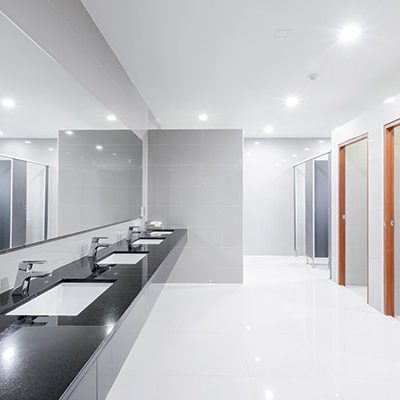 Restroom Cleaning Services in Laurel, Maryland
Your floor is spotless and your lobby is immaculate, but, if you have a dirty bathroom, it creates a bad impression for your business. Keep your bathrooms spotless by depending on Office Care, Inc. for restroom cleaning services in Laurel, Maryland. After all, your restroom is as much a part of your business as your sales area, conference rooms, and other places in your building. Allow us to ensure a germ-free and odor-free restroom again.
Serving commercial customers in the greater area since 1997, we have the experience and top-grade products to provide superior services. We believe it is essential to keep your restroom clean, not only for health reasons, but as a courtesy to employees and customers. Some of the tasks we perform when cleaning restrooms include:
Mop Floors with Disinfectant & Rinse
Clean & Sanitize Fixtures
Clean Mirrors
Polish Bright Metals
Clean Supply Pipes
Clean Stall Partitions & Tile Walls
Empty, Clean & Sanitize Waste Receptacles
Clean Ceiling Vents
Clean/Remove Hard Water & Rust Stains
Simplified Cleaning Solutions
Forget about using dozens of different harsh chemicals for each different part of your bathrooms. Office Care's Green Clean Certified simplified product line uses nontoxic solutions capable of handling dirt and odor-causing bacteria on almost any bathroom surface. Forget about that closet full of cleaning chemicals that do not even work. Our Hospital-Grade methods and products will get the job done leaving a pleasant fragrance, so you know your bathroom is clean.
We Care about Health Standards!
Providing a safe, clean, and healthy environment is important to us. We are a professional member of the Building Service Contractor's Association (BSCAI) focusing on excellence in the field and care for our environment. We are also a bonded and insured company that is Green Clean Certified.
Contact us to schedule a free, no-obligation facility walkthrough to thoroughly assess your cleaning needs. We proudly serve business throughout Washington, DC, Maryland, and Virginia.